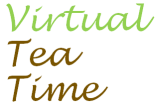 Quadruple Chocolate Brownies






Description
It is said that the way to a man's heart is through his stomach. But there is another saying. "The way to a woman's heart is through chocolate." Too bad not many guys will read this page and make these brownies. Making a batch of these quadruple chocolate symbols of affection might just raise some guys in the esteem of their significant others. Symbols of affection? Yes. The study of semiotics is the study of how we communicate through words, symbols, and even things.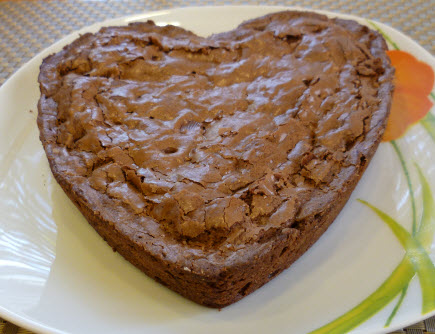 For example, if a young man gives a young woman a dozen red roses, that means that he likes her. The communication is clear. Similarly, if a young woman gives a young man some home made cookies, it means she likes him. Now, suppose a woman invites her woman friend over for some tea and serves her a nice, warm plate of Quadruple Chocolate Brownies. That certainly signals a powerful desire for a deepening friendship. (See, you already knew about semiotics.)

So go ahead. Say it with brownies. Just be sure to taste a few first. You might need to eat several just to be sure they turned out all right. If someone catches you eating most of the first batch, just say, "I'm testing them," or rather, "Ahm tefftik dem" which is what you'll sound like with your mouth full. After you swallow, though, you can say, "Cook's privilege."

If some unthinking person asks, "Who told you it was cook's privilege?" Just say, "Virtualteatime." Or maybe better, "Want one?" That usually silences the critics.

But enough of this prologue. The sooner we get to the recipe, the sooner we can make it and the sooner we can enjoy those chocolate, chocolate, chocolate, chocolate brownies.



Recipe




3 ounces unsweetened chocolate
3 ounces semi-sweet chocolate
1/3 cup cocoa powder
1 cup milk chocolate chips
3/4 cup butter (1 1/2 sticks)
1 cup all-purpose flour
1/4 teaspoon salt
3 large eggs
2 1/2 cup sugar
2 teaspoons vanilla extract
1 cup chopped walnuts


Preparation




Butter and flour an 8-inch baking pan, brownie pan with dividers, or heart shaped pans, different sizes.

Preheat the oven to 350 degrees.

In a small, heavy saucepan melt the unsweetened and semi-sweet chocolates and butter over low heat, stirring until the mixture is smooth, and let the mixture cool completely. Into a bowl sift together the flour, cocoa powder, and salt and set aside. In a large bowl, using an electrix mixer, beat the eggs. While still beating, add the sugar, a little at a time, and beat the mixture at high speed for three minutes, or until thick and pale.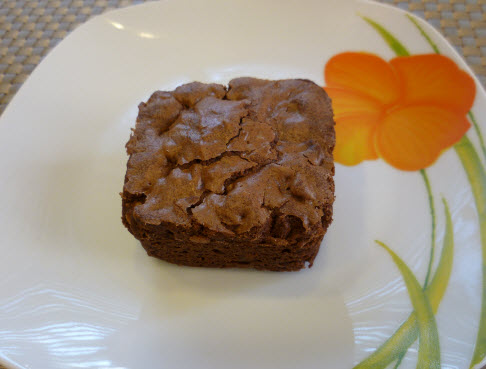 Add in the chocolate mixture and the vanilla extract, and then add in the flour and cocoa mixture, stirring until the mixture is blended well. Stir in the chocolate chips and chopped walnuts. Pour the batter into the baking pan, smoothing the top. Bake the brownies for 25 to 30 minutes at 350 degrees. Let the brownies cool completely in the pan before cutting.


Comments
Okay, so we don't really expect you to let the brownies cool completely before you have at them. We know you'll dig out a couple before they can solidify and pour the warm, gooey, crumbly quadruple chocolate ecstasy into your mouth. Mmm. I can taste those little bits of wonderfulness now.

When you eat these with a friend, take a few minutes to reflect on how blessed you are that all this chocolate goodness is so easily available, and at such reasonable prices. In 17th century Europe, only the really rich could afford chocolate. Might be a good idea to say a prayer of thanks to God for this blessing--which is emblematic of a million other blessings we take for granted. For example, when was the last time you thanked the Lord for a safe water supply or a heated house? Or the friend you're going to invite over to share in this happy indulgence?




Other recipes of note
Peanut Butter Banana Bread
Chicken Salad Tea Sandwiches
Very Raspberry Very Merry Coffee Cake with Chocolate
Spinach and Bacon Quiche
Lemon Cupcake Surprise
Quadruple Chocolate Brownies
Intensely Lemon Cookies
Macaroni and Cheese Supreme



---
v i r t u a l t e a t i m e . c o m
Copyright 2013 Marie Harris
All Rights Reserved